Sightseeing
View the colorful nature of each season, and shop for Yamanaka lacquerware and Kutaniyaki ceramic ware, the traditional Japanese crafts of this area.
Yamanaka Onsen Area
Yamanaka Onsen Soyu Kiku no Yu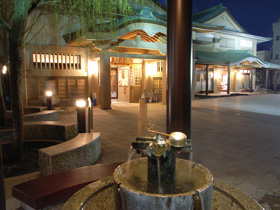 This hot spring facility for day use at the center of the Yamanaka Onsen town is said to be the original hot spring of the town. The women's bath is in the Yamanakaza , a facility including a theater.
Kakusenkei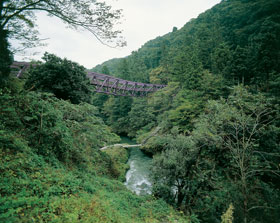 This is truly the most picturesque place in Yamanaka Onsen. The walking trails are great for a stroll among the awesome spring fresh green or autumn red and gold leaves.
Yamanaka Shikki Dento Sangyo Kaikan (Yamanaka Urushiza)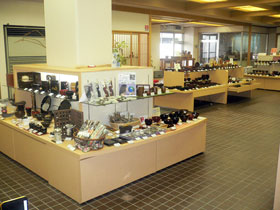 Information on both the history and present style of Yamanaka lacquerware is introduced at this facility. The skills and works of master craftsmen are exhibited. And the local prices for the works are good.
Yamanakaza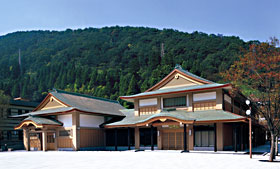 Yamanakaza, the Yamanaka Theater decorated with beautiful Yamanaka lacquerware, is the place to see performances of Yamanakabushi, traditional songs and dances performed by geisha girls (on weekends only).
Yamashiro Onsen Area
Yamashiro Onsen Soyu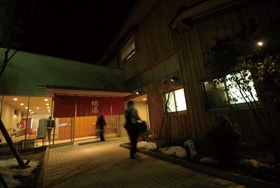 This hot spring facility for day use is in the center of the town. There are two soaking tubs in the main grand bathroom: a deep tub and a shallow tub. The walls of hand-painted Kutaniyaki ceramic tiles are beautiful.
Yamashiro Onsen Kosoyu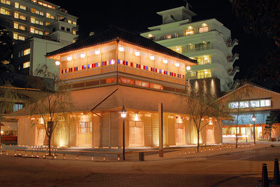 Here is the place to experience the public bath culture as it was in the Meiji era (1868-1912). The building with its Kutaniyaki ceramic tiled baths, lacquered walls, and stained glass in addition to the natural hot spring water create an elegant bathing adventure.
Kutaniyaki Kamaato Tenjikan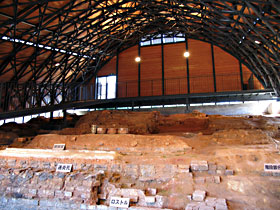 Yoshidaya kiln is one of the kilns of the renascent Kutani (Saiko Kutani), the origin of the current Kutaniyaki (Gendai Kutaniyaki) and some of the old kiln sites including Yoshidaya kiln have been excavated and are on exhibit. Hands-on experience of using a potter's wheel and painting on pottery is available at this museum.
Rosanjin Gukyoato Iroha Soan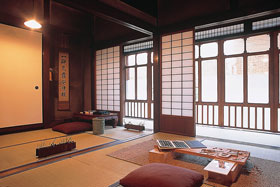 Kitaoji Rosanjin was a distinctive artist and gourmet in the Taisho era (1912-1926). This is the place where he stayed and is as it was then, with the original atmosphere intact.
Katayamazu Onsen Area
Katayamazu Onsen Machiyu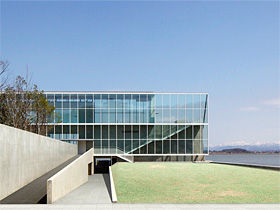 This is a hot spring facility for day use with salty hot water springing up from the bottom of Lake Shibayamagata.
Nakaya Ukichiro Museum of Snow and Ice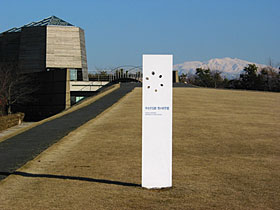 This museum introduces the studies of the world-renown snow expert, Dr. Nakaya Ukichiro, from Katayamazu. Here you can learn details about snow and ice from the displays of crystals and experiments with diamond dust.
Ukiuki Benten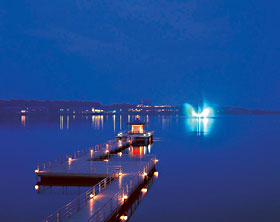 This floating temple on Lake Shibayamagata is the symbol of Katayamazu Onsen.
Daishoji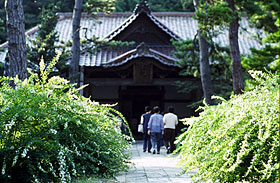 Yamanoshita Jiingun is a place with seven temples and a shrine in the castle town of Daishoji.
Kutaniyaki Art Museum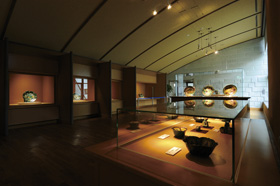 Museum is specialized in introducing the art of Kutaniyaki Porcelain. Visitors can enjoy all the arts while learning the history of Kutaniyaki Porcelain, as well as the beautiful mini gardens that blend in with the sceneries of the Ko-Kutani-no-Mori Oyamizu Park.
Hashidate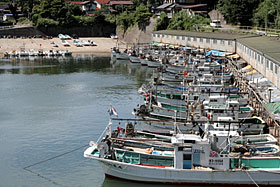 In Hashidate, you can see many old mansions of wealthy owners of Kitamae trading boats. At the adjacent Hashidate Fishing Port, there are many seafood restaurants serving dishes with ingredients from the Sea of Japan.
Awazu Onsen Area
Awazu Onsen Soyu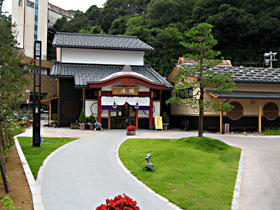 This is a hot spring facility for day use with a Karahafu-style roof and famous for soft, smooth spa waters. Eggs boiled in the hot springs are also available for a tasty and healthy snack.
Nata Temple (Natadera)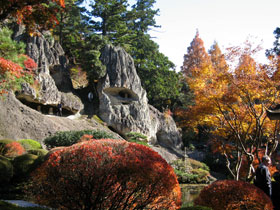 This is a famous temple of the Shingon sect of Buddhism. The treasure hall exhibiting valuable art works and the garden, especially noted for its autumn leaves, are must-see points.
Dento Kogeimura Yunokuni no Mori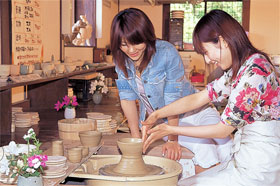 This is a theme park of traditional art crafts. You can experience Kutaniyaki, Kagayuzen, Wajimanuri and over 50 other traditional arts and crafts in 11 facilities.
Motorcar Museum of Japan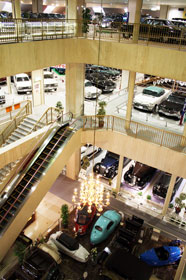 There are about five hundred cars housed in a redbrick Western-style building. The line up of both Japanese and foreign classical cars is overwhelming.
Nomi/Komatsu Airport Area
Komatsu Hikiyama Koryukan Miyossa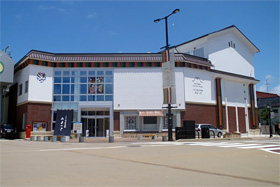 This facility was opened in May of 2013. Hikiyama is a type of traditional festival float that skilled craftsman from Komatsu City created. During the festival of "Otabi Matsuri," which has been held every May for the past 250 years, Kabuki (Japanese classical dance-drama) is performed inside of the Hikiyama. At Miyossa, two of the Hikiyama are displayed. You can experience up close the exquisite beauty of the Hikiyama floats. Various other activities are available, such as traditional Japanese music, dressing in Kabuki make-up and nails, traditional Japanese dance, and many other traditional activities.
Science Hills Komatsu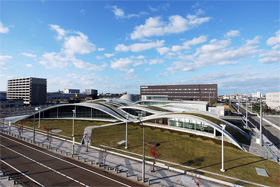 In March of 2014, the Science Hills Komatsu was built as a science museum in Komatsu City, which has developed as a manufacturing town. One of the highlights is an interactive exhibit called Wonderland. This exhibit links local industries with science education. Another highlight is the programs shown at the dome-shaped 3D theater called 3D Studio, which is an innovative stereoscopic vision system. It is one of the largest 3D theaters in Japan. Other events and interactive workshops take place all year around.
Ishikawa Aviation Plaza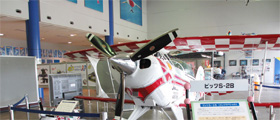 Ishikawa Aviation Plaza features a wide variety of aircraft, ranging from gliders to jets. They provide an interactive experience of aviation culture by offering hands-on interaction with the 21 aircraft that are on display. There is a flight simulator designed to mimic the flight of a YS-11A, which is available only here in Japan. The kid's play area is also very popular, boasting one of the largest airplane playground equipments in Japan.
Komatsu Kibagata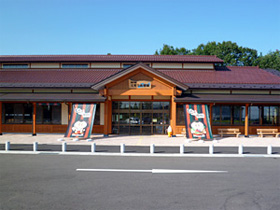 Komatsu Kibagata is a Michi no Eki, which translates as roadside rest area. It is a place where you can see and feel the charm and beauty of Komatsu. The local farmer's stands sell their products including vegetables, sansai vegetables (edible wild plants), and fruits. You can also find other local products such as the local brands of sweets, sake, and craftworks, as well as agricultural and marine products. In addition, located inside the rest area there is a restaurant offering great local food at reasonable prices, such as tomato curry or rice balls. Also, information about more tourist spots in and around Komatsu City and the local products are available.
Kutani Pottery Museum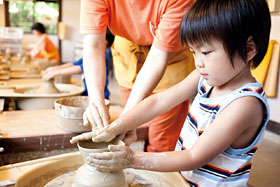 Here you will find a vast selection of libraries, ceramic ware villages, museums, and shops that highlight the attractiveness of Kutaniyaki. To experience painting a piece of pottery, check out the Togeikan (pottery museum). Many, many kinds of Kutaniyaki souvenirs are available.
Ataka no Seki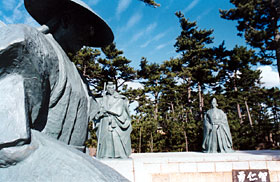 This is an old checkpoint site famous as the setting in the kabuki story "Kanjincho." This is a good place to visit for people interested in Minamoto no Yoshitsune (a 12th century warrior) and Benkei (a monk and Yoshitsune's retainer).
Matsui Hideki Baseball Museum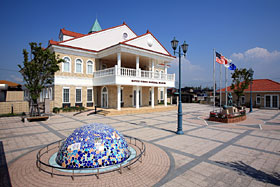 This museum is dedicated to Hideki Matsui, a major leaguer from Nomi City, Ishikawa Prefecture. Childhood pictures, memorial balls and other valued goods from Matsui's life are exhibited.
Forest of Wisdom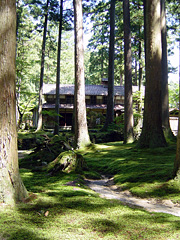 Located in the center of the mountainous area of Komatsu City, Hiyo-machi is a valley town blessed with abundant nature, such as paddies, fields, brooks and forests. The town is home to precious, more than 200-year-old cedar trees; moss gardens with a variety of mosses, whose different kinds are one of the largest number in Japan; and old folk houses. In early summer, fireflies can be seen around the paddies and brooks. This area was selected as one of the One Hundred Beautiful Japanese Villages in 1991.
Hakusan Area
Hakusan Super Rindo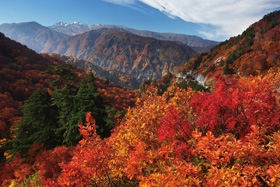 This more than 30-kilometer mountain road connects Ishikawa Prefecture and Gifu Prefecture. The four seasons are distinctive along this route, especially the fresh greenery of the summer and the vibrant autumn leaves in the autumn. On the Gifu end, this route leads to the world heritage site "Shirakawago."
Shirayama Hime Shrine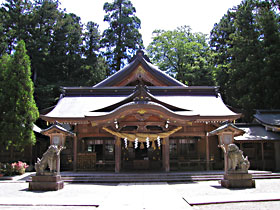 This shrine worships Mt. Haku (Hakusan), sacred as the God Mountain, and is the main shrine of the Hakusan sect with over three thousand branch shrines throughout Japan. Upon entering the area, the feeling is solemn. The treasure hall exhibiting national treasures and other valuables is a must-see. This shrine deifies Shirayama Hime God and is believed to bestow sacred benevolence for fertility, marriage, and business.